I love baked meatballs when they keep their shape and texture and bring something to the sauce party. When I watched Daniele Uditi at Pizzana on The Chef Show, I was inspired to attempt his baked meatballs at home and the result became our staple baked meatballs recipe.
Jump to Recipe
I don't have a searing hot wood-fired pizza oven in my house (maybe next house…) but by following his ingredients and cooking them at the highest possible heat (in my oven, that's 550F), then simmering in a super simple marinara, I got pretty close to the flavor and texture of authentic Napoli baked meatballs.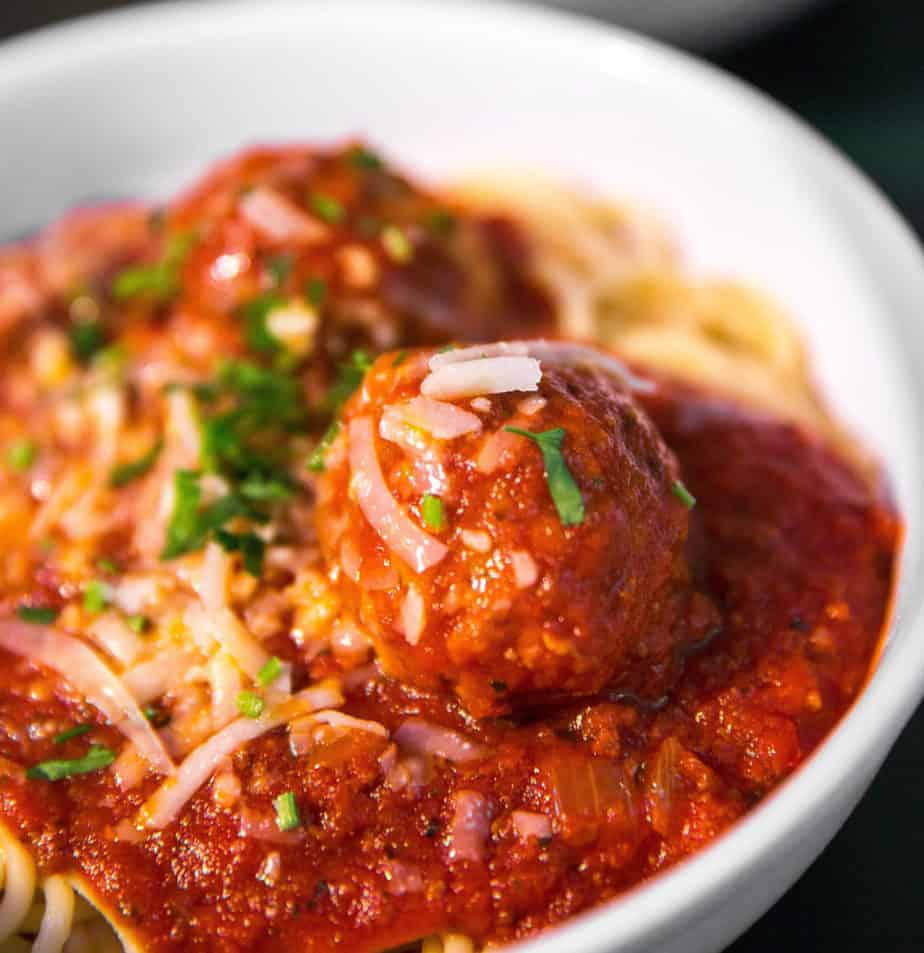 It takes prep time but friends, it's so worth it and you really can't mess them up. We have a new Sunday afternoon tradition at our house.
These baked meatballs fill our freezer and finishing them is super simple. Freeze the meatballs after the oven sear but remember you still have to cook them in the sauce as they won't be thoroughly done until you do. You can go straight from the freezer to the hot sauce – lower them in with a long spoon and be careful not to splash. If you prefer to add them before heating the sauce, just be sure to heat it as quickly as you reasonably can and you may need to add a little simmer time.
Recipe Notes
Customize the recipe by using any chili paste you like, any herbs with or in place of the parsley, and by using whatever pasta sauce your family loves.
You can substitute lamb, veal, turkey, or other ground meats for the sausage but try for something with similar fat content. If it's not correct, the baked meatballs won't sear properly and/or may shrink.
Use Romano in place of the Parmesan, but don't substitute regular breadcrumbs for Panko. Panko is so much less mushy than plain breadcrumbs and brings body to the sauce.
The milk is optional, it just helps with mixing.
Add any spices you like.
If you need a good marinara sauce – check out our simple meat sauce. To make it with meatballs, simply leave out the ground meat (and veg and mushrooms if you like, it works either way).
Let's Make Baked Meatballs, Buon Appetito!
Print Recipe
My Favorite Baked Meatballs Recipe
I was inspired to make the best possible meatball recipe as I watched Daniele Uditi make his Chef Show meatballs baked in the oven at Pizzana.
Ingredients
1

tbs

ghee or clarified butter

important – oil will burn

1

pound

93% lean ground beef

1/2

pound

Italian sausage

mild or hot, remove casings

2

eggs

1

tsp

salt

1

tsp

black pepper

1

tbsp

chili paste

1

tbsp

Sriracha or other chili sauce

1

tbsp

milk

1/4

cup

chopped parsley

2

cloves

garlic

minced

1

cup

Parmigiano Reggiano

finely grated

2

cups

Panko bread crumbs

4

cups

sauce

tomato, marinara, or pasta sauce
Instructions
Preheat oven to 550 degrees Fahrenheit; grease sheet pan with ghee or clarified butter.

Mix beef, sausage, and eggs thoroughly by hand in large mixing bowl.

Add remaining ingredients, mix by hand until fully incorporated.

Place meatballs on sheet pans with at least 1/2 inch between (weigh 45g or make by hand approximately the size of golf balls).

Place in oven, do not open for 10 minutes. NOTE – They are not done at this point. You must simmer them in a sauce.

Remove and carefully place in simmering pasta sauce (enough to cover); simmer for one hour.