This is our favorite spaghetti sauce recipe – and really, it's an all-purpose sauce that's so versatile. We just call it spaghetti sauce because that is what we get asked for the most.
Jump to Recipe
My first love is French food, but Italian is a close second. This is the Bolognese-style sauce my kids come home from college for, the one I make for large groups of kids and adults, the one that generates lots of "Can I have this recipe?" moments.
A Simple Meat Sauce Recipe for Meal Prep
This spaghetti sauce recipe is a meal prep champion. You can pile this easy sauce on half a French or Italian loaf, add Mozzarella, and broil for a super-quick supper. You can do the same with pita, flatbread, or Focaccia for a perfect pizza. It's great for lasagna, ravioli, manicotti, baked ziti, and stuffed shells. See why my fridge and freezer are full of this stuff?
The flavors in this particular recipe are great fresh but really come together in the days after in the fridge or freezer. If you do freeze, save the butter, fresh herbs, and greens for when you reheat.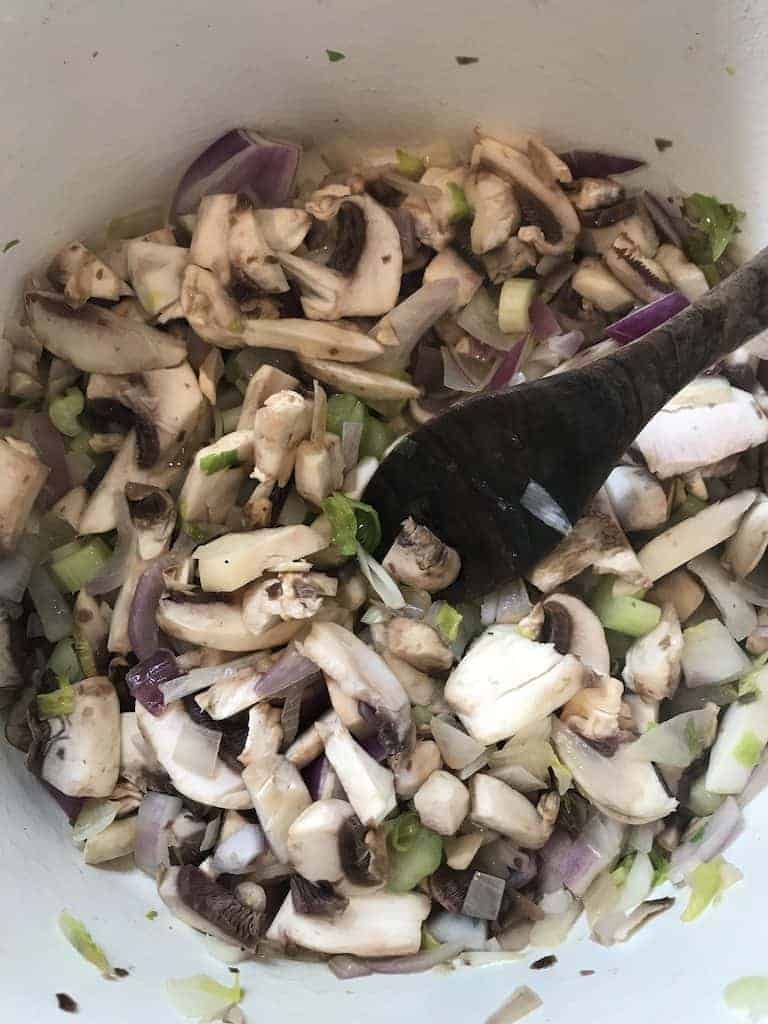 Now's a good time to check out the best olive oils at your grocery store – here's a great article from our friends at Kitchn on the subject. My favorite readily-available EVOO remains California Olive Ranch.
Recipe Notes
Half this recipe if you want an approximate 2 cup yield. I always make 4 and put 2 in the freezer.
Vegetables = carrots, celery, onion, shallot, peppers, or any combination or other vegetables you like.
You can use any ground meat you like or any meat substitute that can hold up to browning over high heat. I've used pork, turkey, beef, and chicken as well as chopped mushrooms in place of the ground beef.
It's possible you could use faux meat or tofu, but if I'm cooking vegetarian or Kosher I usually just go with mushrooms. (Yes, mushrooms on top of mushrooms. I love mushrooms. Also, mushrooms do have a tiny bit of protein, in case you were wondering.)
If you use leftover meat, remember the food safety clock doesn't reset when you cook it again. Don't freeze things made with leftovers. The rule in our house – if it's made with leftovers, we eat it now.
Canned tomatoes can be diced, crushed, or whole (crush them first). Each will yield a different consistency. Don't switch to tomato sauce, but you can get away with tomato puree.
Fresh herbs/greens – I recommend any combination of thyme, oregano, basil, parsley, arugula, spring greens, kale, marjoram, or rosemary (chop rosemary finely and add it with the protein, it needs more time). Feel free to substitute 3 tbs dried herbs or Italian seasoning, but try it with fresh if you can, it's much brighter in taste and appearance. 
If you want to use this recipe to simply beef up a jarred sauce, just go through step 6, then add jarred sauce and heat through. 
This recipe will produce a rustic sauce, if you'd like it more smooth, simply dice the vegetables and aromatics finely or process with a food processor until you get the consistency you like. I like a finer sauce for pizzas and delicate pasta, more rustic for lasagna and sturdier pasta.
The longer you simmer, the better the flavors will meld but the more the vegetables will cook. For me, the sweet spot is about 75 minutes. If your goal is to hide vegetables in the sauce, you may want to go longer so they cook away. 
You can also add things like red pepper flakes, cayenne, and pepperoncini if you like. We add red pepper at the end.  
We love this spaghetti sauce recipe because it has the versatility to often let you use up what you have on hand. I'd love to see how you use the sauce and I'm obsessed with all the great tablescapes you've been sharing with us; tag us in your photos on Facebook or IG with #foodnfabric.
Subscribe to our monthly-ish newsletter and check out all our recipes if you'd like to hang around. Happy cooking!
Print Recipe
Simple Spaghetti Sauce Recipe from Scratch
A versatile recipe for bolognese sauce that works on pizza, pasta, or anywhere else you'd use tomato sauce. It's a great way to clean out the refrigerator and use leftovers. To make it vegan, skip the butter and sub mushrooms or other protein substitutes for the meat.
Ingredients
1/4

cup

olive oil

2

cups

vegetables

diced – see notes

3

cups

mushrooms

diced – see notes

2

pounds

ground raw meat

or cooked or substitute – see notes

28

ounces

canned tomatoes

see notes

1

tbsp

salt

1

tbsp

black pepper

1

tbsp

sugar

brown or granulated

2

tbsp

butter

1

cup

herbs and/or greens

rough chopped – see notes
Instructions
Heat oil in a large heavy pot over medium-high heat until shimmering.

Add aromatics and mushrooms. Cook, stirring occasionally for two minutes. 

Add garlic, stir constantly for 30-45 seconds until fragrant. Do not brown.


Move vegetables to the side, turn the heat up to get the pan hot enough to brown the meat but not smoking. Add the meat then guide the vegetables on top of it so it browns but the vegetables don't overcook. 

Don't stir right away. Let meat cook until the bottom is nicely browned.  (Stir the vegetables if you need to so that they don't cook much while the bottom of the meat is browning.)

Break up the protein, stir everything together, and cook, stirring occasionally, until meat is completely browned.

Add tomatoes, salt, pepper, and sugar. Bring to a boil then lower to simmer for at least 30 minutes and up to 3 hours. 


Remove from heat, add butter and fresh herbs/greens.

Store in the refrigerator for up to 5 days or let cool and freeze.