Let's start with this – pancakes are not that simple. The recipes have deceptively few ingredients, but to really learn how to make pancakes from scratch or otherwise, you have to practice. There are a few things that will greatly increase your chances of success; I've left out "Jump to Recipe" on this post deliberately – these things are important. If you arrived here by searching "How to Make Pancakes" please do read the whole post. You can thank me later.
Important Notes
Don't overmix the batter. Just get it all wet and leave it and do it with a whisk, not a spoon, we need air here. 5-6 good strokes with the whisk are plenty.
Let the batter rest up to 30 minutes (with baking powder) and up to 10 minutes (with baking soda) before you cook it to give the flour time to absorb the moisture.
Flip them once, and not too soon – see the photos.
Be gentle – never, ever smash your pancakes.
Eat them right away. Pancakes don't keep. If you want something freezer friendly, waffles are a much better option.
Use a pan that holds heat. Cast iron or good quality clad cookware is best, a thin skillet will make pan temperature harder to regulate.
Use high heat fat and plenty of it if you like fried pancakes with crispy edges. I cover the bottom of the skillet with oil. We use lard, you can use canola, avocado, or any other high smoke point fat. If you'd like to use butter, clarify it or use ghee. (Plain butter will burn. Not might, will.)
To use this much fat, you'll need a griddle with higher sides or a skillet.
If you want cakey, not-so-fried pancakes, you can get away with less fat. Just use enough to keep it from sticking.
Heat the pan. Make sure the oil is hot (but not smoking) before you put the batter in. This is where most pancakes go wrong and when you've mastered it, you know how to make pancakes. If your pancakes take more than 1-2 minutes per side, your oil is not hot enough. If they take less than 1 minute per side, it's too hot. Practice managing the heat in your pan by paying attention to these times, every stovetop is different.
Here's a handy explanation of high heat oils from The Spruce Eats if you need one.
BE CAREFUL. You're in close proximity to hot, flammable fat. If this makes you uncomfortable at your current skill level, use a non-stick skillet and a tiny bit of fat instead. You can still get great results.
A Note About Technique – When is a Pancake Ready to Flip?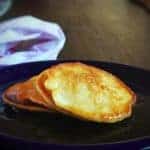 Print Recipe
How to Make Pancakes – A Versatile Recipe
This one is endlessly customizable and great for learning how to make pancakes from scratch – be sure to read the hints in the post for a much greater chance at success.
Ingredients
180

g

(1/2 cup) all-purpose flour

see notes to substitute self rising or wheat

2

tsp

baking powder

see notes to substitute baking soda

1

tbsp

sugar

white or brown

1

tsp

salt

340

g

(1/2 cup) milk or buttermilk

1-3

eggs

see notes

2

tbsp

melted butter

any oil will do here

1/4-1/2

tsp

flavored extract to taste

optional

1/4-1/2

c

high heat oil

for the pan – amount will vary, see notes
Instructions
Whisk dry ingredients together in a mixing bowl. If you want to add berries or nuts, drop them into the flour and stir lightly to distribute.

Make a well in the center of the dry ingredients and add liquid ingredients, being careful to wet as little flour as possible.

Use whisk to combine the liquids and beat the eggs without incorporating flour.

Use whisk to quickly incorporate flour, 5-6 strokes. Don't overdo it – just hydrate all the flour you can see, there should be lumps.

Let batter sit about 15 minutes if you used baking powder but just 2 minutes if you used baking soda.

Heat a skillet over medium heat and add 2-4 tablespoons of high heat fat (see notes). Add enough fat to completely cover the bottom of the skillet.

When fat is shimmering, carefully add pancakes. 2 tablespoons of batter make a small pancake, 3-4 tablespoons make a larger one.

When bubbles are starting to form in the center (not just around the edge – see photo), carefully flip and cook an additional 1-2 minutes.

Will keep warm in the oven at 200F for a bit in a pinch, but it's really best to eat them right away. Serve with creme fraiche, butter, or whipped cream and/or your favorite fruit or syrup.
How to Make Pancakes from Scratch – A Reference
Once you've mastered the technique, here's a quick ingredients reference chart –
If you're interested in trying a full pan Dutch baby pancake, I love this recipe at Entertaining with Beth.
Thanks for stopping by, I'd love to see your pancakes – tag #foodnfabric on social or leave your comments below. If you're looking for more ideas, check out our popular French Toast Casserole recipe for an impressive, simple breakfast – it doesn't get much easier.