I love to decorate, but I admit collecting things is not something I've given much thought to until now. I realized recently almost everyone has collections. You may think you're not a collector (I did), but how many platters or wooden spoons do you have? Coffee cups, nice pens?
We all have things we appreciate and have more than one of. I keep visual distractions to a minimum in our house, so taking things we use and arranging them into displays and groups has always been my jam.
I like to donate or give away things the moment I'm done with them, but my husband is a collector and hobbyist so that's been an adjustment for both of us. Putting his collections together has definitely pushed me to be a better decorator to integrate his vision and mine. Let's just say there've been a lot of compromises… 🙂
Whatever you love or use, it can be stored and displayed beautifully and it doesn't have to cost a lot.
Look at how retailers display things; they usually have professional merchandisers and designers to organize for them.
This summer and fall, I'll be updating to show you how we're implementing these in our new (way smaller) house. In the meantime, enjoy the beautiful photography of the generous and talented folks at Unsplash.
Collecting Things – Books & Magazines
Books are my only collecting obsession, and tech hasn't changed that. My books are a disorganized mess, so they are kept behind closed doors, but my vintage Living magazine collection is coming out for display soon. If you have something fun like comic books or a beautiful vintage collection, those make for an epic display. Time and National Geographic with their bright spines make a beautiful focal point, as well.
I don't often say something is an absolute design "don't," because I respect and try to appreciate everyone's taste; but I beg of you, do not turn your books backward, no matter what you see on the internet.
I love to decorate shelves. Styling shelves is a design specialty all its own, and one that evolves with trends and tastes. If you find a room is annoying you and you can't put your finger on why, consider the amount of stuff on the shelves. If you've got more or less visually displayed than your eye prefers, it can leave the whole room feeling off.
Shop the Look
Collecting Things – Toys
Lots of us love toys that bring us back to our childhood and make us smile. Whether you're looking to display your hobby toys, vintage collections, or to organize your kids' toys and show them off, there are lots of ways to do so. Remember – visually like items go together. Group by type, color, size, whatever works. One of my favorite things, when my son was young, was his zillion Lego blocks separated by color. It made an impressive (though short-lived) display.
Like anything, toys can be displayed on shelves and in containers. My kids are currently researching building dioramas for housing their many modeling projects, and I can't help but get excited about decorating the tiny buildings.
Shop the Look
Collecting Things – Clothing, Shoes, & Accessories
This one's for my son the sneaker freak and all my open storage, loft, and historic house armoire folks who are into collecting things like clothes, shoes, and accessories. Clothes can be so beautiful. My entire wardrobe is basically black, so it's easy to make an installation out of it.
I love to decorate with clothes. If you're arranging clothing in the open out of enjoyment or necessity, consider how your favorite retailers display their goods. Merchandising is a commercial art that plays out beautifully in residential settings, as well. Stores like Freight HHG, Anthropologie, your favorite antique or vintage shop, and others have a completely different vibe than Ralph Lauren or Kate Spade. Find a look you love, take pictures, and emulate it in your space.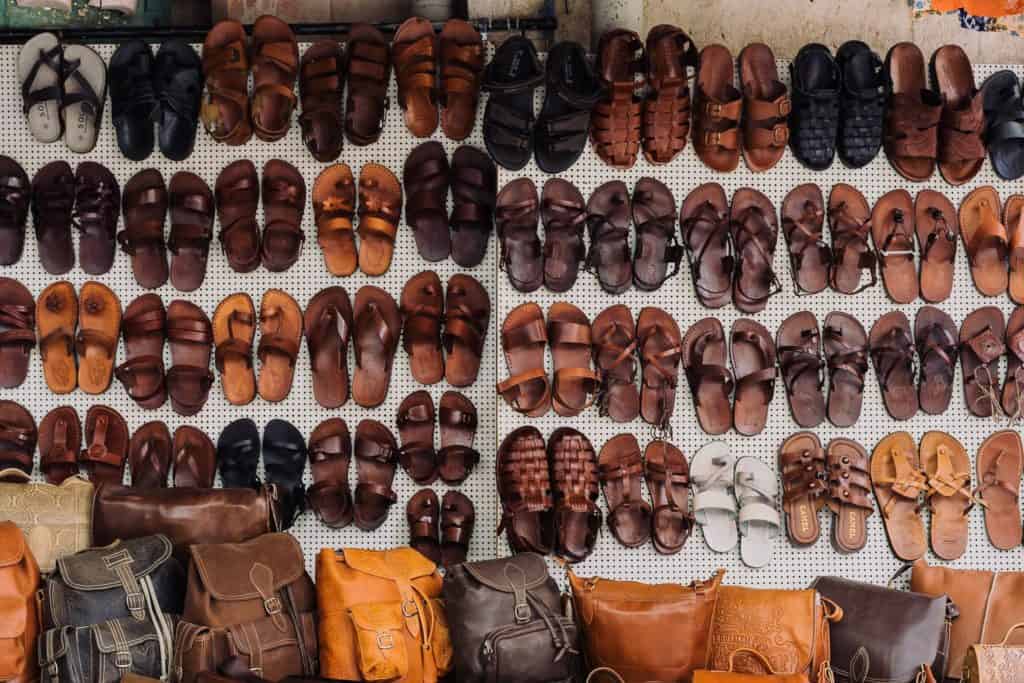 Shop the Look
Here are some of the things I've been looking for to display and store in my master bedroom. The adorable macaron boxes are from Dollar Tree!
Collecting Things – Decorative Storage
In my house, there's very little that is purely decorative but I love to decorate with useful things. With space at a premium, my goal is that everything I use has a hiding place or is beautifully displayed. Don't overlook the fact that things you use regularly as materials or supplies can make beautiful groupings, as well. My favorite, of course, is fabrics but when it comes to collecting things, any like objects can be grouped into an installation.
Consider these:
Papers
Wrapping and shipping supplies
Wooden kitchen utensils
Cutting boards
Rolling pins
Sewing Pins and Passementerie
Office Supplies
Writing Utensils
Glassware
Maps or plans
Sketches
Linens
Shop Display Storage
Collecting Things – Kitchen Storage
Collecting things in the kitchen? Same. I admit I have more rolling pins than is reasonable and an affinity for anything useful and wooden. I also have a collection of copper I never use for cooking and a massive collection of cast iron I use every day. I love how these things look and really want to display them more than my cabinet storage allows. This summer, I'm going to show you some really creative ways to free up space and enjoy your beautiful kitchen collections. Until then, here are a few ideas for inspiration.
Shop the Look
Memorabilia & Vintage Collections
I have a friend who collects vintage mixers and other antiques. His home is like a museum, I never run out of things to look at. You'd never know it started life as builder standard, your eye is too busy with the beautiful layered collections to notice.
Again, if you are collecting and displaying, decide on your tolerance for volume ahead of time. I know, for example, that I need to see a lot of clear shelf and wall space in my home to be comfortable. My friend feels cozy when most available space is taken up by his curated collections. Most people are consistent as to how much negative space they need, and your home should be fairly consistent throughout in that respect to feel cohesive. Don't worry that minimalism or layers are trending – stay true to what you love and update according to your own standards. That feeling always comes through.
My South Carolina friend's house is far too full for my taste, but I love to decorate and shop with her because I always feel her history and love around me when I visit. As a result, it's warm and welcoming.
I love an odd mix of minimal decor and toile and French country, so I haven't been trending for some time now. Nonetheless, I love every room in my house and never have to worry about updating when things change unless I want to. You don't have to have shiplap unless you love it – you do you.
Here is some beautiful inspiration for decorating with memorabilia.
Shop the Look
If you're looking for curated vintage and antique goods, here are a few of my favorites of late –
Looking for more tips and tricks? Check out our Design Trend Guide!