We've had the pleasure of living in the Pacific Northwest three times – on beautiful Fidalgo Island, in Portland, and most recently, in Seattle on the north shore of Lake Washington. Each was a distinctly different experience and there were things we loved and didn't, but the Pacific Northwest remains one of my favorite places.
It would be impossible to talk about everything in one or ten posts. Anytime you're west of the Cascades in Washington, in every direction there's stunning scenery so you can't lose; drive literally anywhere. I haven't even gone into the Olympics or Canada here, and our Seattle experience is another story or two.
"The Pacific Northwest, and particularly Whidbey Island, is extremely suited to be a location in a novel."

–Elizabeth George
Experts say I should keep the aesthetic the same, make the page cohesive when I write; I do try but it's just not possible here. These places don't look the same on a grey morning as they do on a bright, sunny afternoon. To show it like it is, only a hodgepodge of light and color will do.
I highly recommend timing your travel around a visit to the Skagit Valley tulips if you have the opportunity, they are amazing. If you find yourself there, our favorite SV restaurant is Seeds in nearby La Conner.
Getting There
You can get to the San Juans by driving north on the 5 out of Seattle, or you can take the ferry out of Mukilteo and drive Whidbey Island. Be flexible if you ferry, there are times they shut down for weather. You can always ferry up and drive back, or vice versa. Both I-5 and the ferry require patience, so get on "island time" before you head out. The scenery is beautiful along either route; take your time and take it all in.
Anacortes
In Anacortes, we lived on a beautiful hill overlooking a pasture and a small cottage I loved. The man who lived there kept smoke coming out the chimney almost year round, which made the view even more idyllic. Life for us moved slowly, traffic was nonexistent, and outside of paying a lot for groceries and being far from family, there was little not to love about our island life. A stroll through downtown Anacortes is worth your time, and driving the loop around the island won't take long but will afford you the most beautiful scenery.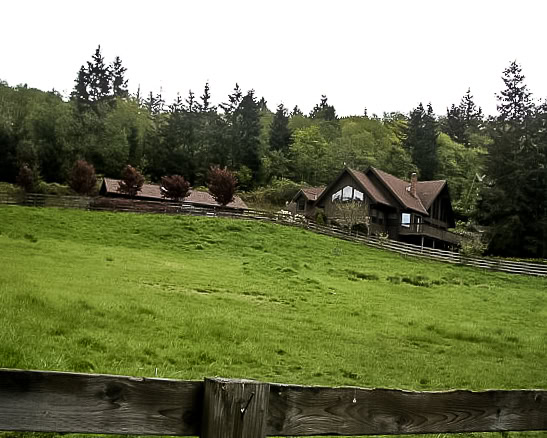 Our favorite destination in Anacortes is Washington Park. When the sun shines the parks are packed but there are always people around when it's raining, too. The outdoor spaces take on a whole different dimension in the mist; you have to see it from both points of view. Drive through the Washington Park loop (people hike, but I prefer to drive rather than dodge cars) then stop to play and look for the sea otter who lives in the waters off the park. It's also a great place to watch for eagles and other birds.
Deception Pass & Bowman Bay
There are some things I've seen in my travels I can honestly say defy explanation and that pictures do no justice at all. The Washington coast in this area is one of them. My forever favorite thing to do in the San Juans is a clear blue day exploring North Beach and Bowman Bay with my family.
The first time you see Deception Pass, it will take your breath away. Bowman Bay, the park below the bridge on the Anacortes side, is where you can take it all in from a lower, and just as beautiful, perspective.
The beaches on both sides of the pass are pure magic; there are rock beaches on the Fidalgo side, sand beaches on the Whidbey side (North Beach is our favorite), and beautiful driftwood everywhere. The hiking at Bowman Bay is spectacular. The canopy of green is indescribable hiking up from Bowman Bay, it's like walking around a Lord of the Rings set. (Can you tell it's one of my favorite places?)
Whidbey Island & Oak Harbor
If you head into Oak Harbor, you're in for a friendly little Navy town that has a unique brand of charm. Again, just driving the island makes for some beautiful scenery in any direction. Dugualla State Park is worth a visit, The harbor near the Navy Seaplane Base is beautiful at low tide. There are beach parks all around the island.
There are lots of restaurant reviews you can check for places to eat, so I'll just share our favorite. In Oak Harbor, we met the most lovely Southern people who started a barbecue restaurant named, aptly, The BBQ Joint. They are kind supporters of NAS Whidbey and the families there, and always took great care in serving us the best possible meals and entertaining my children. (I know what you're thinking, that I talk about barbecue in every city. You're not wrong. I grew up in the South, barbecue is life.)
There's also a fantastic drive-in movie theater in Oak Harbor, the Blue Fox. We loved going there when the baby was small and could sleep while we watched a movie. Those were our only date nights his first few months of life, and they were great times. Watching movies, taking turns snuggling a new baby, what's not to love?
Beyond Oak Harbor to the south are more interesting villages and towns and lots more to do and explore, as well as the ferry back to Seattle and a ferry to Port Townsend out of Coupeville.
Driving the Cascades
Even after we moved into Seattle, when we weren't driving to Whidbey, we were exploring the Cascades. I don't know if it's the weather or the "greenness." but they have a unique, sort of mysterious quality and are one of my favorite places to hike. I am not a fan of snakes; I love their place in the ecosystem, just don't want to hang out with them. In Washington west of the Cascades, garter snakes are plentiful but there are few venomous things. This makes hiking a much more pleasant experience for me. (Mississippi/Florida hiking is beautiful too but has me utterly exhausted at the number of things that can bite and even eat small children to watch out for. No wading, kiddos…)
Check here for Anacortes events and here for Oak Harbor, there is always something going on.
Now you see why we love the place so much. Venture up if you are anywhere in the PNW and leave a piece of your heart behind, as well. If you'd like to tag us at #foodnfabric when you visit, I'd love to see your photos and hear your recommendations. Happy travels!