I know it's still cold in many places, but it's 70 and sunny here so I'm calling it spring and looking for dining room ideas and storage and organization inspiration. Heavy winter and holiday things are going to storage; lighter, minimalist (for me) decor is coming out; and spring cleaning is beginning. I'm starting slow, with a spring dining room. It's not used as much as the rest of the house so it takes the least time to spring clean and redecorate.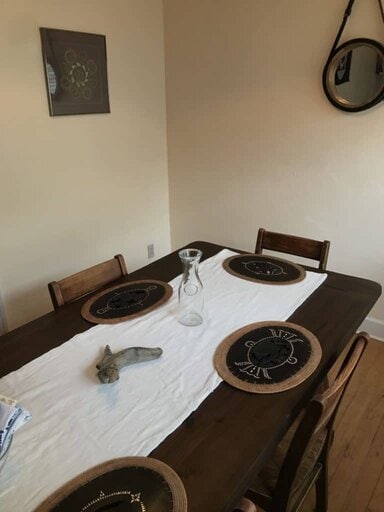 It's pretty casual for a "formal" dining room, especially compared to my holiday table. I'll put Trader Joe's flowers or eucalyptus out when I go to the market. Still, this is a table made for spring dining which, in this house, means windows open, lemonade or sweet tea, and messy barbecue. Let me introduce you to the indestructible table runner…
Dining Room Ideas – Washable Faux Linen Runner
My runner is rugged. I don't bother ironing it because I know I'll be washing and bleaching it all summer. It's made from Walmart dropcloth, which if you've read my faux shade post you know is my favorite linen substitute. I just doubled it so I can place warm dishes on it safely (warm, not hot, I use cork for those).
My Favorite Vintage Pieces Live Here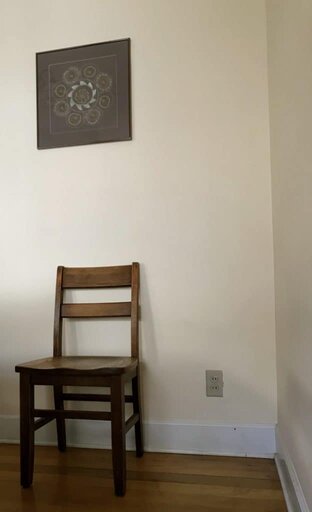 The framed lace was $5 at a Florida thrift store and is one of my most favorite things. You could grab any doily (paper or lace would work) or any piece of fabric you love and replicate the look with a frame and mat. I have a few fabric-framing projects in mind for other rooms, coming up soon in a DIY post.
My Most Treasured Furniture – 8 Vintage School Chairs
The 6 dining chairs came from Pensacola High School's surplus sale. I just sanded them lightly and waxed them with Minwax Paste Finishing Wax. I'm so happy with how they turned out (and at $5 each, I should've bought all they had…).
The porthole mirror with a leather strap is from Ross Dress for Less, amazing what a mom can score while the teenager shops for shoes. Here are similar ones if you're looking to incorporate the look:
Faux Leather Strap Wall Mirror Black – Amazon (affiliate link)
Dusan Accent Mirror – Ashley Furnishings
I made this wall art from a discarded navigational chart. You can ask your favorite boater or pilot for old ones or check out Etsy or eBay. I framed it with 1X1, stapling the boards together to make a rough frame then stapling the poster, wrapping it like a painter's canvas. It's aged with coffee and painted around the edges with acrylic paint mixed with my favorite DIY plaster paint in a sort of Tiffany blue-green, thinned a bit with water. I love how it turned out.
My placemats came from St. Vincent de Paul's thrift store in Seattle. They are wood with pearl inlay and different animal and botanical carvings in the centers. I haven't been able to find an inlaid one at retail, but IKEA has LATTAD rattan placemats for $4.99 each if you like the woven look.
All the IKEA
The water pitcher we use often is one I bought at Walmart years ago. IKEA has a great collection of glass carafes and bottles, I love the KORKEN bottle. The TILLBRINGARE pitcher is just $3.99 and the KARAFFE is only $1.99. The wood is driftwood my daughter picked up in the San Juan Islands when she was tiny and gave me as a Mother's Day gift. The French bowl that holds my napkin collection was a gift from my mother-in-law..
This is truly all I want in my dining room, except maybe a rug one day. I hate the light fixture (builder standard) so I keep it up high, one day I may try to revamp it somehow. The room is small with a large table in the center; I keep it as empty as possible so there's more room for people to move around comfortably when we have company. My shelves for dishes and linens are in the kitchen.
I hope you enjoy the tiny tour of our formal(ish) dining space. I'd love to see what you're doing for spring as well as your winter tablescapes. Tell me what you think of the room and your suggestions about rugs. I can't decide whether to go simple in keeping with the quiet of the room or to throw in some color to jazz it up a bit.
If you'd like to explore some of my decorating inspiration, check out my Pinterest boards. Hope it's warm soon where you are so you can throw your windows open and let the springtime in.